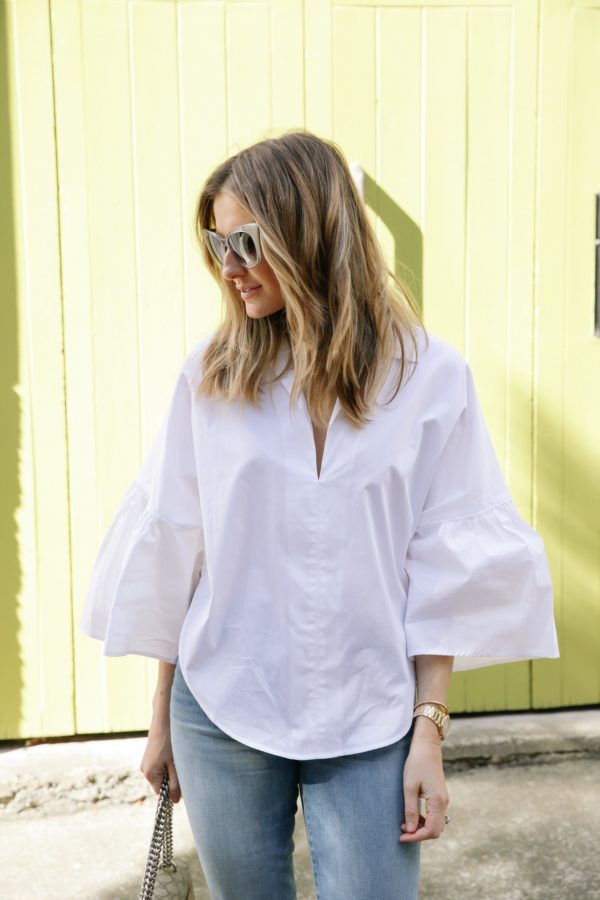 If there's one thing that I can't live without it's a pair of great jeans. Denim is a workhorse in my wardrobe as it's so versatile and goes with virtually everything. It's always a great go-to option for me when I need to get out the door fast as it's so easy to dress it up or down. Finding the perfect pair of jeans is key and I find it's important to try on various styles to pinpoint the right fit and style for your shape. When I'm on a mission to find a new pair of jeans I'd rather every style I'm considering is in the one place to make it easier to compare them. I always head to David Jones as they stock great international and local brands and offer up every style you could possibly want which makes it easy to try on a few different pairs and find The One.
Once I've found the perfect pair I wear them non-stop and one look I wear to death is the classic combination of a white shirt and jeans. There's just something so effortless about it and I find it's simple to pull together a look for different occasions simply by changing the style of shirt I'm wearing. Case in point: below I've managed to maintain the same style formula of a white shirt and jeans but achieved four distinctly different looks by adding a few key accessories, wearing a different shirt style, all while wearing the same jeans. Proof that you can pretty much wear denim with everything!
Look #1: Night Out
My new J Brand Maria High Rise jeans are so versatile as the style is quite simple and pared back which means its easy to wear it in a variety of different ways. I've teamed this look with an off the shoulder top and added bold accessories such as my gold Gucci heels and choker to glam it up for the evening.
Credits: Jeans, J Brand (worn throughout); Shirt, Camilla & Marc; Bag, Bvlgari; Heels, Gucci
Look #2: Office Wear
Jeans can be office-appropriate. I've teamed my jeans with a crisp button down shirt, a pair of loafers and a structured handbag to keep the look polished and work ready.
Credits: Shirt, Tome; Bag and Shoes, Gucci
Look #3: Mum on duty
When I'm out with Sophia and Grace comfort is key so denim is the ideal option. I can afford to go a bit more relaxed when I'm on mum duty so I have opted for a star print white shirt and statement sunglasses to add a bit of fun to the outfit. Sneakers are a must so I can easily run around after the girls and a crossbody bag leaves both my hands free (an absolute necessity when dealing with a toddler and a baby).
Credits: Shirt, Kate Moss for Equipment; Bag, Jerome Dreyfuss; Sunglasses, Saint Laurent; Shoes, Gucci
Look #4: Relaxation Mode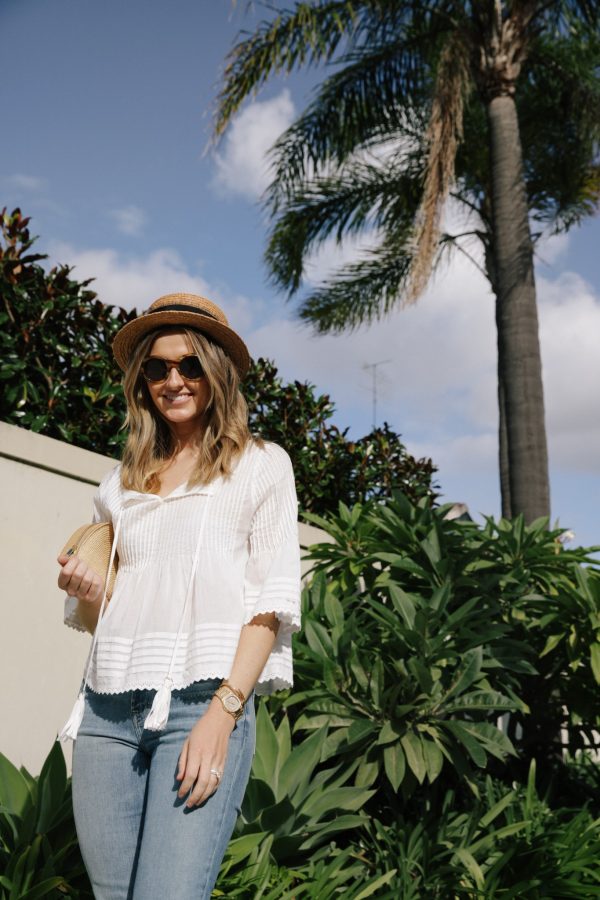 This would be an ideal look for the weekend. Jeans paired with a peasant top and simple sandals give the look a relaxed vibe and a neutral clutch and straw boater give the outfit some added texture.
Credits: Shirt, Karen Walker; Hat, Nerida Winter; Bag, Helen Kaminski; Shoes, Bassike
This post has been created in collaboration with David Jones and ShopStyle
Photography: Sophia Athas