I think every woman should own at least one great suit. There's just something inherently commanding about wearing one. Whilst traditional suits in classic colours such as black and navy are great, especially when in a more corporate setting, I love being able to push the boundaries a little more given that I work in largely creative settings a lot of the time. This is why this Rebecca Vallance suit and I are a match made in heaven. The colour, the fit, the style are all a fashionable take on a long standing classic.
The double breasted jacket is one that's had a serious resurgence over the last few years and is always such a flattering fit. When paired with wide leg suit pants it helps give a streamlined silhouette up top which is great for when you're more on the petite side like me. The pale blue hue of the suit with contrasting gold buttons helps lift my overall look and gives it a more fashion forward edge.
I decided to pair this suit with simple black studded Alaïa heels and Chanel clutch to provide some contrast without being too overwhelming. I find plain black accessories are always a reliable go-to when you want an outfit to have a timeless feel. However I did want to have a little fun too! My Chloe round frame sunglasses, I think, are an unexpected finishing detail for such a classic look and help give it a modern touch.
Credits: Jacket, Rebecca Vallance; Pants, Rebecca Vallance; Sunglasses, Chloe; Clutch, Chanel; Heels, Alaïa
Photography: Danielle Castano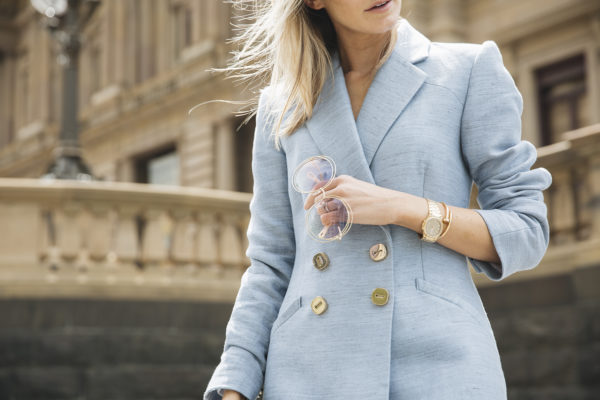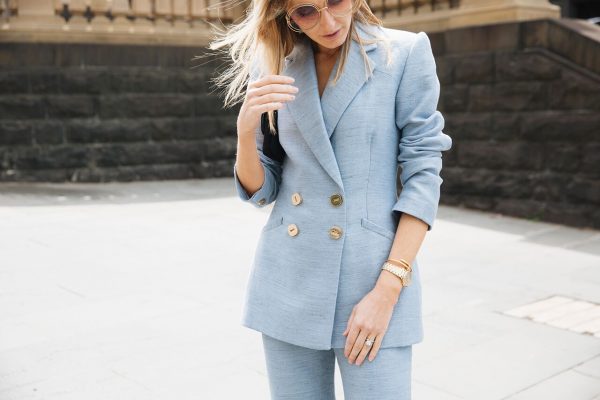 Get the look: