A New York-based model and DJ, Alexandra Richards is the daughter of Rolling Stones guitarist Keith Richards and model Patti Hansen. The 27-year-old blonde bombshell was in Australia to launch Voodoo Hosiery's winter collection and Kate Waterhouse caught up with her to chat about her career, growing up as rock royalty and being daddy's little girl.
Where do your priorities lie? Modelling or DJing?
Both, it's a balance. DJing is something that I can connect more with than modelling because I love music and I grew up with music, but modelling is something that is always there I guess.
You have followed in both your parents' footsteps?
It is just funny, because I remember, when I was a kid, I used to not want to be like my mum. I really wanted to be like my dad … I was just like more punk, more tomboy. I used to listen to a lot of music. I just remember my mum and I were always bumping heads and then it is so funny how you grow up and you realise: "I love you so much." My mum is like my best friend.
So are you daddy's little girl then?
I am, I am. It is very hard with work. He is always travelling, but that is what inspires me to do what I do.
What was it like to be born into rock royalty?
Change, evolving. You know you have to be adaptable. There is no place that we have stayed the same for that amount of time, so you had to be up and always keep up.
At what stage did you realise your parents weren't average and were actually very cool?
Well, you know, being a teenager, I never thought they were cool, because I was the typical teenager. I don't think I ever really came to normalcy because I don't think any family is normal, and when they are, there is something wrong [laughs].
Does your dad give you music advice when it comes to DJing?
No, because what he does and what I do are completely two different things. Being a DJ, you are making beats and promoting other people's music by turning their sound into another person's sound, whereas what my dad does is write and make that song for [someone like] me to then go and change every minute [laughs]. We live in a different generation now. It is hard for him to grasp what I do, but he is very supportive.
Do you ever mix up his songs when you're DJing?
No, I never. I would never make a remix of my dad's songs. There is just something about it. I already love his songs, as they have been sung to me since I was born, so I would never ever touch that. But I respect other [DJs] who make it funky.
Do people treat you differently when they realise your famous last name?
I guess so but, you know, it is funny: when I was younger, people would say: "Wow, you are actually really nice. I thought you would be such a brat." [Laughs] And it really was kind of embarrassing in a sense because [having a famous last name] doesn't give me a right to ever treat somebody the way I wouldn't want to be treated. I don't think that anyone in this world should be thinking it is OK [to treat someone badly] because you have a famous parent.
Would you say your last name has been a help or a hindrance in your career?
I wouldn't say a help or a hindrance. It is just more of an interesting point of view, because people are interested in the other [personal] side. If you have something interesting to say, then you know people are going to be attracted to it and then write about it and then talk about it. I think hard work, dedication and following your heart show through your work at the end of the day.
Did you read your dad's memoir, Life?
No.
Why is that?
I feel I can ask him any question at any time … I know all these things [written] and, if I wanted to ask him, I would. So I am just waiting for the time when I can sit and get into it. But I know a lot about him – [more] than a kid would want to know about their dad [laughs].
As a rock star's daughter, you automatically became an 'it girl', are you still friends with other 'it girls' like Georgia May Jagger?
Yeah, they are like family to me. Georgia is doing so well right now and it is crazy because I so remember babysitting her backstage in diapers… And Lizzie and Jimmie and all of them, I mean they are just like an inner circle.
You must have had such an amazing childhood all together.
It was great. We all had really crazy upbringings. One of the best things I remember is being away on tour with all the kids of the Wood's and the Jagger's, it was like one big family.
What do you do for fun when you are not working?
I love Russian bathhouses. I just like just going out with my girlfriends. We go out for long dinners, lunches. I love going to the museums and I love going up to Connecticut to see my family.
What are you up to while in Sydney?
We always go to the Icebergs when I'm in Sydney… and we are doing a shoot for the new Fall/Winter collection for Voodoo Hosiery line.
How did you get involved in that?
My [agent] received a phone call from Voodoo asking if I was available… My grandmother in the 1930s was a hosiery model so I thought you know what, I never modeled stockings before and like you know I am always up for new adventures so I said yes.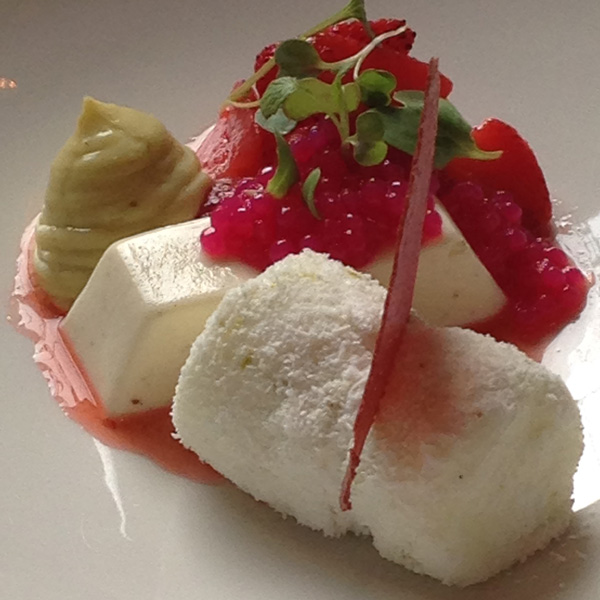 BITE SIZE
WE WENT TO Glass Brasserie, Sydney city.
WE ATE Buttermilk panna cotta with lime and coconut snow ice, strawberries and basil cream; vanilla creme brulee with macadamia biscotti.
WE DRANK Sparking mineral water and Moet & Chandon champagne.
ALEXANDRA WORE Life with Bird dress, Voodoo hosiery, Zara heels.
I WORE a Givenchy T-shirt, Balmain blazer, ASOS leather pants & YSL heels.