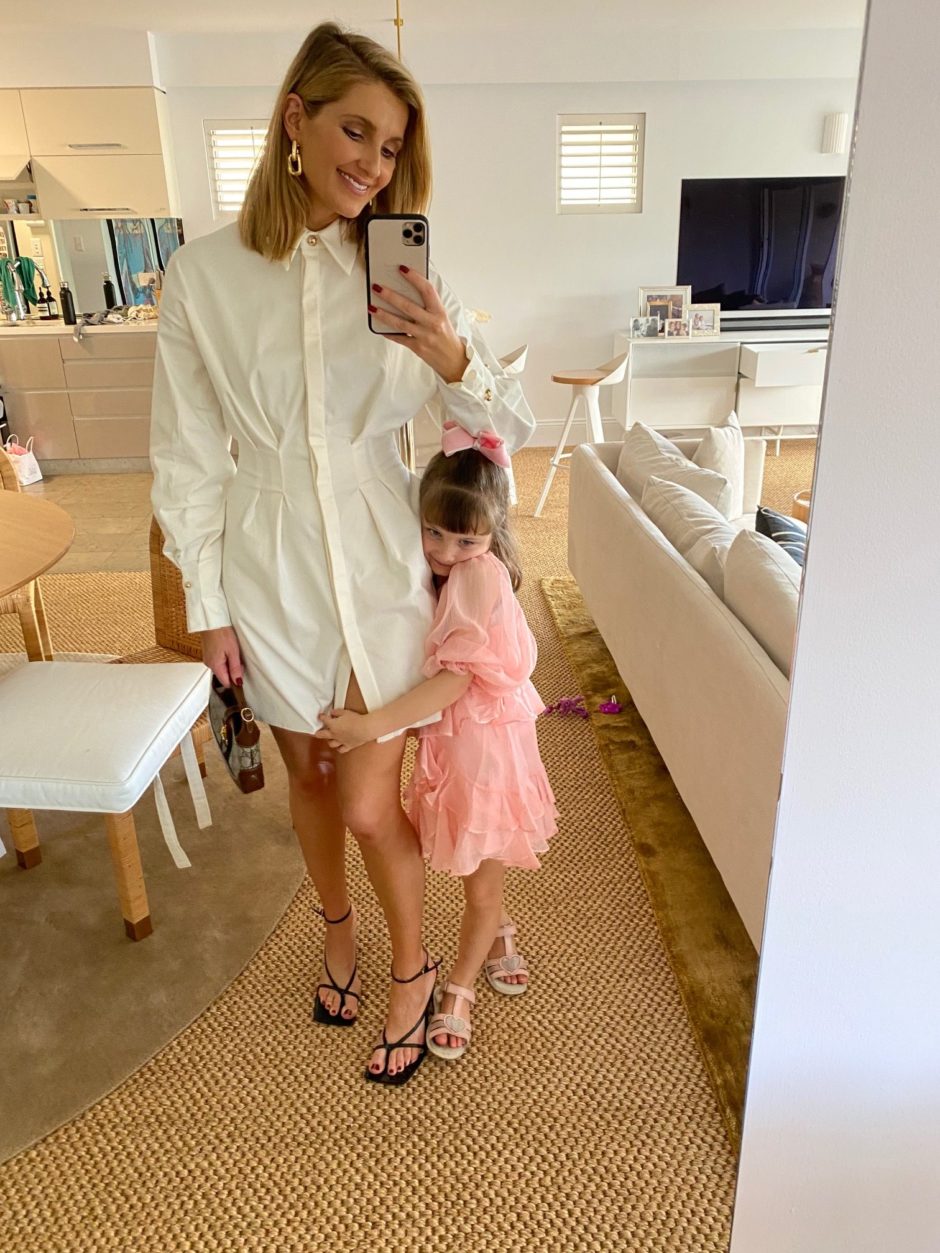 One of the most common questions I receive is how to build up a great mum wardrobe. I'm sure a lot of mums out there will agree that dressing when you're looking after a tiny human is all about comfort and wearability. I can't be wearing anything too fussy when I'm with the girls as I am often running after them, playing in the park or just generally on the go so I've got to be comfortable. Over the years I feel I've managed to really nail the key pieces that make my outfits cohesive and allow me to get dressed with minimal fuss. Here are some of my musts…
Have go-to pair of sneakers
I spend my life in sneakers whether it's paired back with a dress or jeans and a tee. A pair of classic white sneakers is a must and is a worthwhile investment as it can work back with so many outfits. They're ideal for those days when you've got a packed schedule with the kids and need to be comfortable.
Invest in great outerwear
During winter I often rely on my jackets to change up the look and feel of what I'm wearing. If I'm purely relaxing with Sophia and Grace then I have a puffer jacket I pop on as it's casual and warm. However if I need to look smarter I often put on a nice coat or a blazer to help dress things up a little. The thing with outerwear is I can be wearing the same thing underneath— so jeans and a tee for example and changing up the jackets can instantly change the vibe of my ensemble.
Take the dress shortcut
Dresses have got to be the easiest thing a mum can have in her wardrobe. I just pop on a dress, pair them with sneakers and then I'm pretty much ready to walk out the door. They're great for when I need to get dressed in seconds and don't have much time to fuss around (which is pretty much every day.)
Look for pocket details
I love clothes with pockets. Since the girls are getting older I don't need to bring a baby bag with a million things which is why I tend to gravitate towards coats and jeans with pockets. If we're not going out for long I don't need to pack a massive bag, and I just pop my key essentials in one of my pockets and I'm set.
Go for hands-free bags
Backpacks and crossbody bags are a huge trend and they're a godsend for mums. I often opt for either style when I'm out with the girls as it leaves my hands free (this is ideal as most mums can attest you never know when you'll need to stop someone from running off or need to wipe someone's hands). I've invested in a quality leather backpack and crossbody bags as it can withstand the daily wear and tear that running around after two kids can bring. A simple neutral colour such as black, grey and navy is perfect as you can match it with virtually everything in your wardrobe.
Take the easy way out when it comes to fabrics
I love the feel of luxe fabrics like cashmere and silk but when I'm on mum duty they stay at home. I will always wear easy wash and wear items made of cotton or wool as I'll invariably end up with something on me so need to be able to clean it off quite easily.
Build up a staple collection of pants
I've found that by building up my collection of comfortable pants— so think things like jeans, leather leggings and casual lounge pants— it has made getting dressed every day easier. I can pair them back with my trusty t-shirts or jumpers and I'm set.
Ensure you have a healthy supply of tees and sweaters
I've found that anything I can easily throw on (that doesn't need ironing) makes getting dressed so much more straightforward. I've got a good range of t-shirts and sweaters in practical neutral colours that I can rotate every day. I've made sure that my tees and sweaters can work back with everything in my pants collection and vice versa so I don't have the added layer of complexity of trying to figure out what to match with which.
Play with prints and colours
I've found one of the easiest ways to liven up a an outfit is with a touch of colour or a great print. I tend to incorporate a few bold pieces amongst my neutral pieces and find that it can give my look a little extra personality.
What are some of your favourite wardrobe essentials as a mum?