Oh white sneakers, thank you for making comfortable footwear so achingly chic. I've embraced the white sneakers trend for a few years now as they're just so unbelievably wearable. I have a few different styles in my closet because they are such an easy go-to on days when I need to look pulled together but still need to be able to run around quite easily. I usually jump between my different pairs but I can't go past Gucci's Ace style. An elevated designer sneaker just makes any off duty look feel super luxe.
Whether you're wearing old school Adidas, modern Nikes, classic Supergas or trusty Converse sneakers, there's no doubt that you can wear white sneakers in so many different ways. They're ideal to wear for a busy weekend spent out and about or a casual lunch with the girls, the only issue is deciding which style to wear! If you're going to jump on board this trend, here are 6 ways to make it work with your wardrobe.
This is a great trans-seasonal look as we head into the cooler months. White sneakers worn back with a classic look such as a jumper and skirt in neutral colours is casual chic at its best. Love the slight 70s feel to this outfit.
A simple dress is an easy outfit option when you're having a wardrobe dilemma. A knitted dress works well with a pair of perfectly white sneakers and has a relaxed elegance about it. If you want an easy shortcut for changing the look and feel of a slightly more glam dress just add a pair of white sneakers and it instantly looks suitable for day.
The great thing about white sneakers? They're a neutral colour so they go with pretty much anything in your wardrobe and that includes all the colours of the denim rainbow.
While coloured jeans are great, you can't beat a pair of classic blue jeans. This look works best with jeans that are fitted slightly cropped at the ankle.
I love an all white outfit; it looks so fresh and modern. A long midi skirt can be quite dressy but worn with sneakers it can easily become a great casual look. Midriff-baring optional!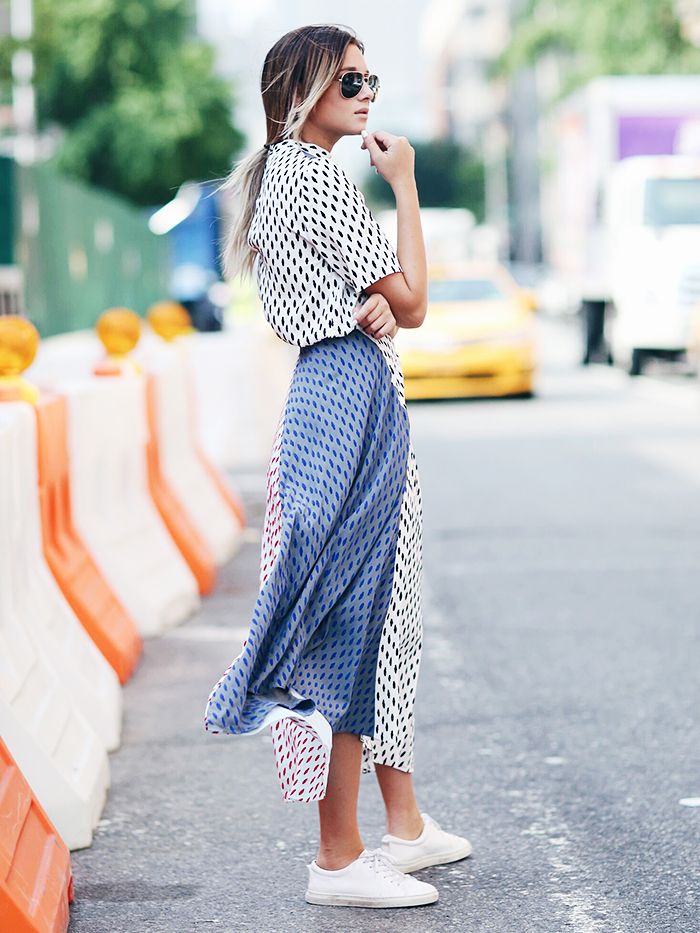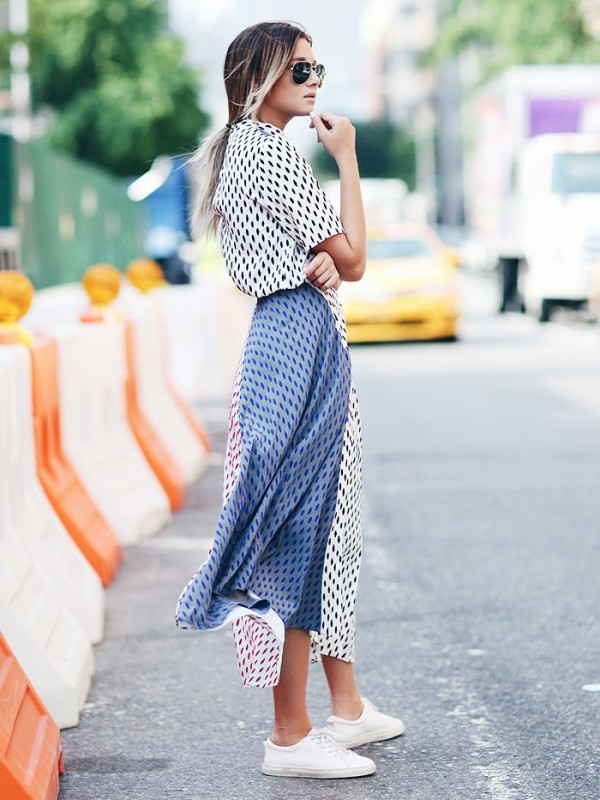 If you want to mix up your usual dress and sandals combination, swap out your sandals for a pair of white sneakers instead. It gives a dress a slightly more modern edge.
Photography: Always Judging, People and Styles, Pinterest, Brunette Braid, Nolita Hearts