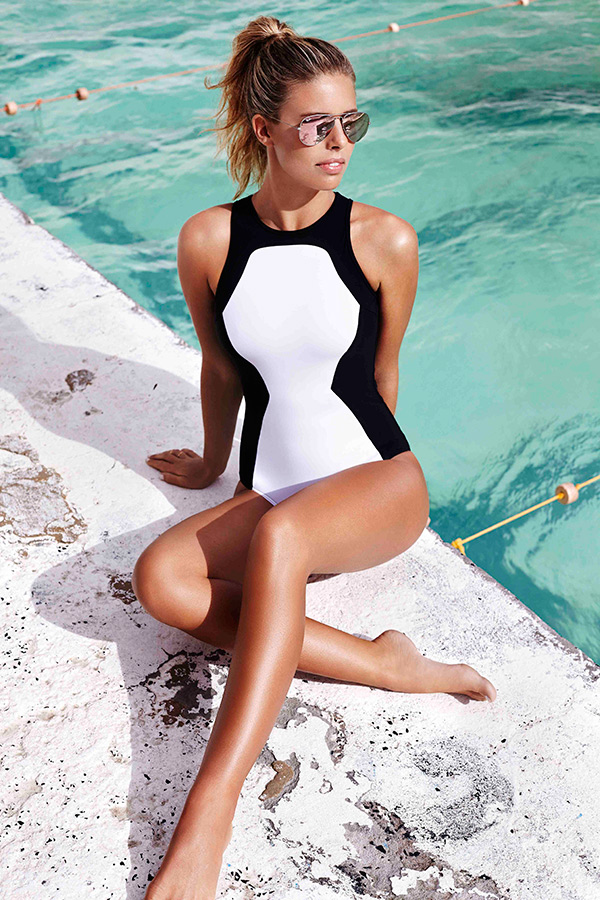 Natasha Oakley is summer personified. What else would you expect from the founder of the blog A Bikini a Day? Natasha has made us all green with envy with her snaps from exotic tropical locations around the world wearing you guessed it – a bikini a day. Natasha's now sharing her summer loves in the new video for Sunglass Hut's 94 Shades of Summer campaign (a video she also acted as creative director on). With summer almost upon us, Natasha's getting us in the mood to welcome in the sunny weather and long, lazy days at the beach….
Starting A Bikini a Day…
A Bikini A Day started out as a passion project, due to a mutual love of bikinis that my best friend (and now business parter) Devin Brugman and I share, and it grew organically from there. It only began as a fun project and has definitely soared beyond my expectations. The biggest success in our eyes, though, is how inspiring it is to so many women all over the world.
Being creative director on the 94 Shades of Summer campaign…
I was really excited when Sunglass Hut approached me to work with them – they have such a great range of sunglasses that I love to wear, so it felt like the perfect fit. I have almost as many pairs of sunglasses as I do!
Although I am used to being the creative director for all things related to my blog and really believe in keeping projects as true to my personal style as possible, I really appreciated that a brand as big as Sunglass Hut would allow me to have so much involvement. It was great to work with such a fun and creative team on this project and I loved that I was able to come back to my hometown of Sydney to work on it, and shoot at all my favourite Sydney summer spots!
Starting a new blog…
I gained a large personal following through the success of A Bikini A Day and my followers wanted to see more than what was on my Instagram and what I was wearing on the beach, so my blog (natashaoakley.com) has become somewhat of a travel and fashion diary to share with my followers – I am having so much fun shooting both swimwear and fashion now.
In the future…
Although I am very strategic with the short term, I like to leave the future open to all sorts of possibilities. I really enjoy running my own companies and am also very passionate about photography and videography and presenting also, so I will see where my passions take me.
My fave summer trends…
Clothing-wise, I'm loving one pieces, boyfriend jeans and espadrilles. For sunglasses, it's all about pastels, round and embellished frames, which you can find in many designer collections such as those from Prada, Miu Miu and Dolce & Gabbana this summer. As part of my work with Sunglass Hut I've also curated my own capsule collection that shows these trends as well as my general all-time favourite styles (who can look past a pair of Ray-Ban Aviators?!) which you can check out at the flagship store in Sydney (or check out the gallery below!).
My summer essentials…
A pair of sunglasses, a bikini, a maxi dress and a great pair of sandals.
The key to bikini confidence…
The key to confidence in a bikini is really simple – every girl just needs to understand that there is no definition of beauty, but that every girl is beautiful on their own and they should rock what they've got! Don't compare yourselves to others, as there is nothing sexier than a girl who is confident in her bikini.
My summer beauty prep…
I exfoliate once every two weeks in summer and gently exfoliate my face once a week. I moisturise A LOT and ALWAYS wear SPF on my face even if I am just popping out for a coffee.
My beauty routine…
My daily beauty routine is quite simple actually – cleanse and moisturise, wear a lightweight tinted SPF moisturiser, mascara and an SPF lip balm.
Shopping for a bikini…
Don't be afraid to size up or down, as bikinis are rarely made to size. Find a cut (i.e. triangle bikini, bandeau top, Brazilian cut) that suits your body type the most and run with it! My favorite style for my body type is the classic triangle and I stick with it most of the time.
The secret to a flattering bikini photo…
Be aware of your body and what angles it looks the best from, point your toes, keep your arm away from you body so it doesn't squish against it and look twice the size (don't you hate that!) and try to avoid really harsh sunlight as it doesn't do anyone favours.
My fave beach in the world…
That changes regularly but at the moment I would have to say Pig Island in The Bahamas!
What are your summer essentials?

Photography: Sunglass Hut