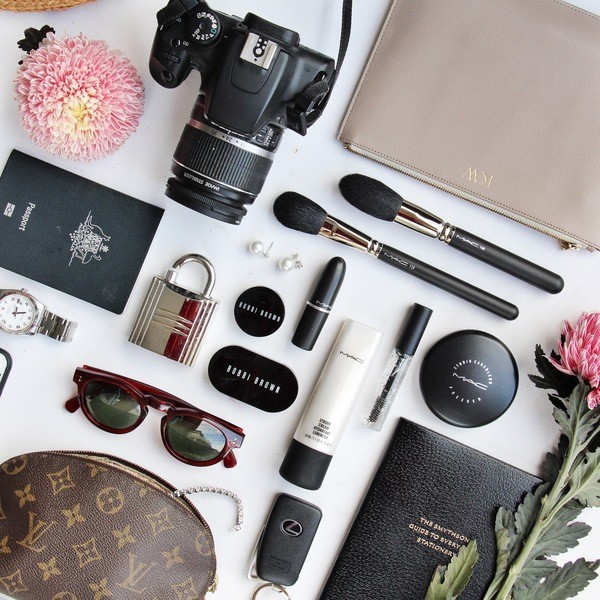 I've been lucky enough to go on a few trips this year and each time I try and streamline my packing even more. When I travel I try and keep my luggage as light as possible. I stick to one bag so I have to be really strategic in what I pack and how I pack so I can take all my essentials with me without having to deal with excess baggage. It's about being practical and also a bit ruthless when deciding what to cull and keep as I want to know that I'll be able to wear all the pieces I take and not have any that are just taking up unnecessary space.
So here are my golden rules for holiday packing…
Mix and match
It's all about bringing separates and mixing and matching that way I can take a few items and just rework them for different looks. For example I'll take a leather skirt which I can then wear with a nice black evening top and it's fine to go out for night or I can wear it with a white t-shirt and sandals, sneakers or slides and I can wear it throughout the day. It's all about finding items that are versatile.
Take one versatile LBD
I always take a little black dress because it can be worn with a pair of great flats but can be dressed up in the evening with a pair of heels so it has versatility. Bringing items that are versatile and can be worn more than one way is key to avoiding overpacking too many things.
Limit the number of shoes you take
As for shoes, I pack a pair of sneakers which I can wear while sightseeing and I also take one or two statement heels that can be mixed and matched with different outfits. If you're going on a tropical holiday obviously  a great pair of sandals is a must.
Pack flat
When I'm packing I lay everything flat as I find it takes up less room. And I stick to only one bag. This is especially true when I'm travelling with the kids and they end up having to take so many things with them—I want to take the least amount with me as possible to make it easier.
Minimise beauty products
As far as beauty goes I definitely always take a great sunscreen, a bronzer, cleanser, a good lip balm, mascara, and makeup remover. And I go with nude nails so I don't have to keep worrying about them while I'm away.
Always take spare clothes
Having lost my luggage too many times to count I take a change of clothes in case my luggage gets lost and I take items that I can't lose in my carry-on bag. I also always take my makeup with me just in case.
Go for comfort
Comfort is key on the plane and my fave plane outfit is skinny leg jeans, a pair of loafers or sneakers, a loose v-neck white tee and a leather jacket and my favourite Louis Vuitton wrap scarf in case it gets cold. Plus I always take a nice roomy tote carry all my essentials.