I'm like many women when I say that I often play favourites when it comes to my wardrobe. There are certain things that are often in my regular outfit rotation, because I've found them to be versatile pieces that I can work in various ways. I do make an effort to try and utilise a fair bit of my closet, but sometimes, there are just pieces that work consistently and I'm not afraid to call on them often. So, having taken stock of what I've been wearing of late, these are the clothing Items that I'm wearing again and again.
These pants are so comfortable and I love the fact they also look quite polished so I can wear them out and about without compromising on comfort. It's also easy to match them with various tops and shoes, and the neutral hue makes them even easier to wear. The Gucci tote is a new addition to my closet and it's already getting quite the workout as it's such a great way to add a touch of colour to any look.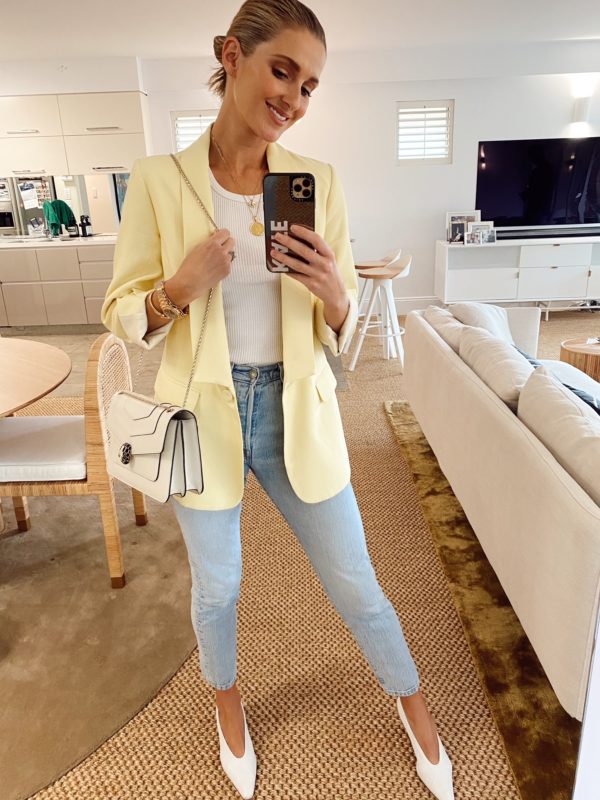 Levis jeans and Bottega Veneta (similar here) slingbacks
These Levis jeans have been such a good investment. They're the perfect wash and cut to work back with so many tops I already own, plus they can easily be dressed up or down according to my shoe choice. And I'm so glad I splurged on these white Bottega heels as I have not stopped wearing them since they entered my life. The colour and style is so wearable.
This fawn coloured ribbed top by Aussie brand Henne has been such a worthy addition to my closet. I wear it all the time as it's such a simple yet stylish silhouette and works really well with a variety of different bottoms. The rest of this look is also currently working pretty hard for me. The white wide leg jeans are going to be a constant in my outfit repertoire for the rest of the year, while these Bottega heels have totally been worth the spend. The cost per wear is SO good. Meanwhile this Chanel backpack is still one of those bags I constantly pull out as it works back with so many different things and it's also perfect for when I'm out and about and just want to go hands-free.
Accessories are so important to me and I often play favourites with a few different shoes and bags at the one time. At the moment, I'm all about this Loewe bag and Gucci thongs. They've both seen me through summer and I fully intend for them to still be utilised over the coming months.
Admittedly my mum always queries the holes in these jeans, but I absolutely wear them to death. They're such a great cut and I love the distressed look as it adds an element of interest to any casual look. Also, white tanks are so important to have as a wardrobe staple and this one by Cotton On is a great cut, but also so very affordable too.
Most of my jeans are a blue wash, so it was great to add this black pair to my collection because I've found it has really filled a gap in my closet. It's been such an easy pair to pair with a variety of different tees, shirts and jumpers and I've already got it bookmarked to wear with many a winter look. And these Ducie sandals are such a shoe MVP for me. Not only are they really comfortable, they're so easy to pair with most of the things I wear which is a huge plus.