Given a huge portion of my work involves sharing my fave outfits and pieces I am often fielding questions about what I'm wearing. Whether it's a particular pair of pants or an item of jewellery, enquiries about what I'm wearing come with the job. What I've noticed however is that some items get enquired about more than most. There are a few key pieces that I always get asked about and it's a combination of accessories, affordable finds, basics and a few special pieces thrown in. Here's what I get the most questions about…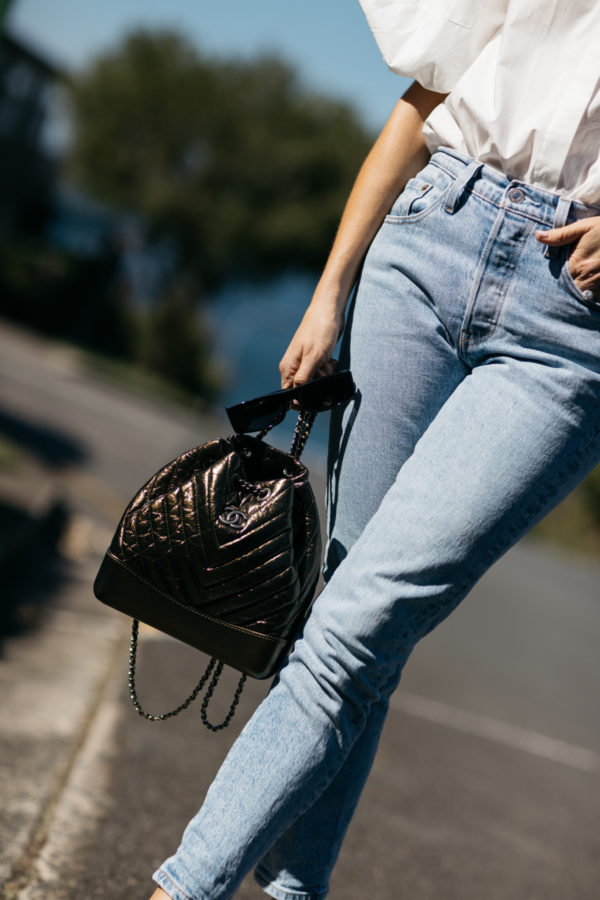 I get DMs about these skinny jeans all the time. I don't mind sharing these jeans far and wide because they really are the most perfect cut, fit and colour. Looking for jeans that are a flattering make has been part of my shopping repertoire for awhile but these Levi's are as close as I've gotten to the Holy Grail of denim. The best bit is they are super affordable.
Gold coin necklace
My gold necklace is also right up there with my jeans as being something I get asked about a lot. I wear this necklace all the time as it has high sentimental value as it was a gift from my dad. He had an old guinea coin made into a necklace and it's honestly one of my most favourite things in the world. While unfortunately there aren't replicas of mine, I have seen similar styles here.
Chanel flats
These Chanel flats have been worth every penny. I love the slingback style and classic two-tone palette. I wear these quite regularly and with a variety of different looks that I share on my Instagram and blog so I get asked about them a fair bit. If you're looking for an investment piece that you'll get plenty of wear out of, I highly recommend these.
I was gifted the Cartier nail bracelet for my 30th and I don't really take it off so it features quite heavily in all my street style looks. Without fail I'll get asked about it. All I can say is that I can attest to it being a versatile piece of jewellery, as along with necklace I also pretty much never take it off.
White t-shirts
I own a plethora of white t-shirts and they're all from affordable chain store brands. My go-to brands are Cotton On and Uniqlo. The fit is always great and so is the price. Plus given I wear white tees weekly, I definitely love having a few on the go.
Ducie Sonia sandals
These Ducie Sonia sandals are without a doubt one of the most comfortable shoes I own. I have barely taken them off since I got them such is my attachment to them! I've worn them for work, travelling, on holiday, school runs… you name it, they've been there.
Ducie Saskia padded t-shirts
If you've yet to check out the UK brand, Ducie I highly suggest you do. They have some great pieces that are wearable and good quality too. I have these shirts with shoulder pads in two colours, white and black, and they go with everything. I wear them often and will get enquiries about them each time I do.
Henne ribbed tanks
Aussie brand Henne does great ribbed tanks. They're good quality and have stood up to a lot of wear. I have them in different colours so they've appeared in a lot of my looks on the blog and Instagram and they're still on high rotation.
I have a collection of dresses by Aussie brand Steele and every time I wear them I get asked about where my dress is from. A great summer dress is such a handy thing during the warmer months and I love Steele because they always do great prints and their styles are feminine and fun. I have a few of them and wear them to death every time summer rolls around.
Camilla and Marc denim jacket
I love, love this jacket so much. This oversized denim jacket from Camilla and Marc is my go-to when I need a lightweight topper for in-between weather, when it's not too hot or cold. The relaxed fit is great and the wash is just the thing to work back with so many different outfits.
Do you have signature items you get asked about a lot? Tell me about them!