I'm quite fond of wearing skirts on days where I'm after a look that's ultra feminine which is how I've stumbled across the versatility of a pleated skirt. They're ultra wearable as they can be paired with so many different top styles whether it's a t-shirt or a button down shirt or cami meaning you can create multiple looks out of one skirt.
A pleated skirt's soft, floaty effect is offset by its crisp knife pleats which makes it ideal to dress up or down. It can be worn for a day at the office just as easily as a day out with the girls. A knee length or midi length skirt is flattering and can easily work back with heels, flats or sandals. This trend is understated and polished and is right on trend with this season's feminine silhouettes.
A pleated skirt in a fun vibrant hue can instantly give an outfit a striking point of difference. The bubble gum hue of this skirt works well with the more subdued colours of the rest of the outfit—the black crop top, bag, sunglasses and pointy pumps help balance the look.
You can't go wrong with anything in a crisp white – especially when you work it back with black. The Celine black trio bag and black textured top help add the finishing touches to this monochrome outfit.
The more relaxed pleating on this skirt work well with the grid pattern and the grey hue. Adding a bright sunny yellow bag and block sandals give this 50s inspired look a modern edge.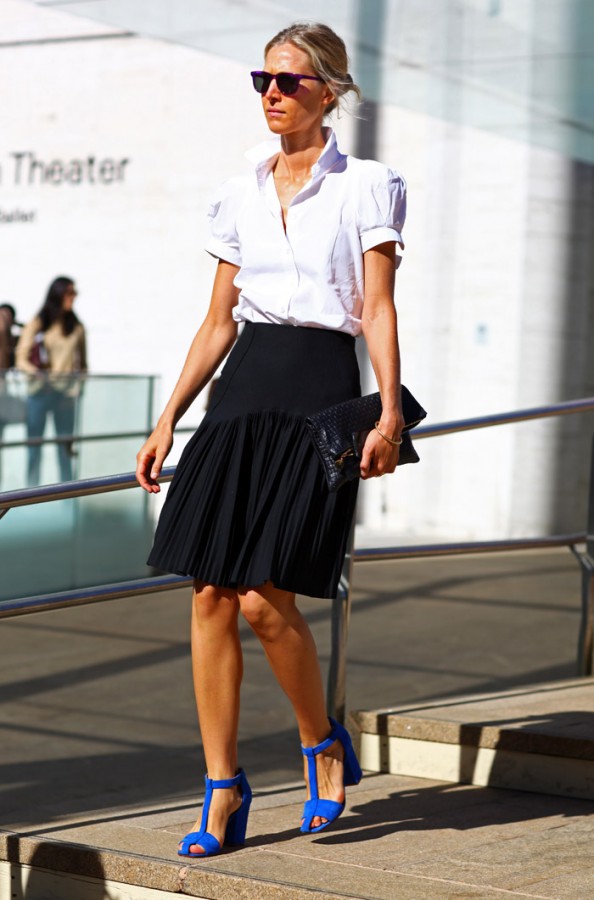 A pleated black skirt can be worn virtually a million and one ways. It's a style staple. Team it with a crisp button down shirt and add a statement heel to take it from conservative to contemporary. You could also team it with a cami or a simple white tee and it would work equally as well.
This is great outfit option for trans-seasonal dressing. Add a lightweight jumper and a pair of pumps for those days when the weather's still slightly chilly. Working your skirt back with a top in the same tonal family helps give it a polished edge.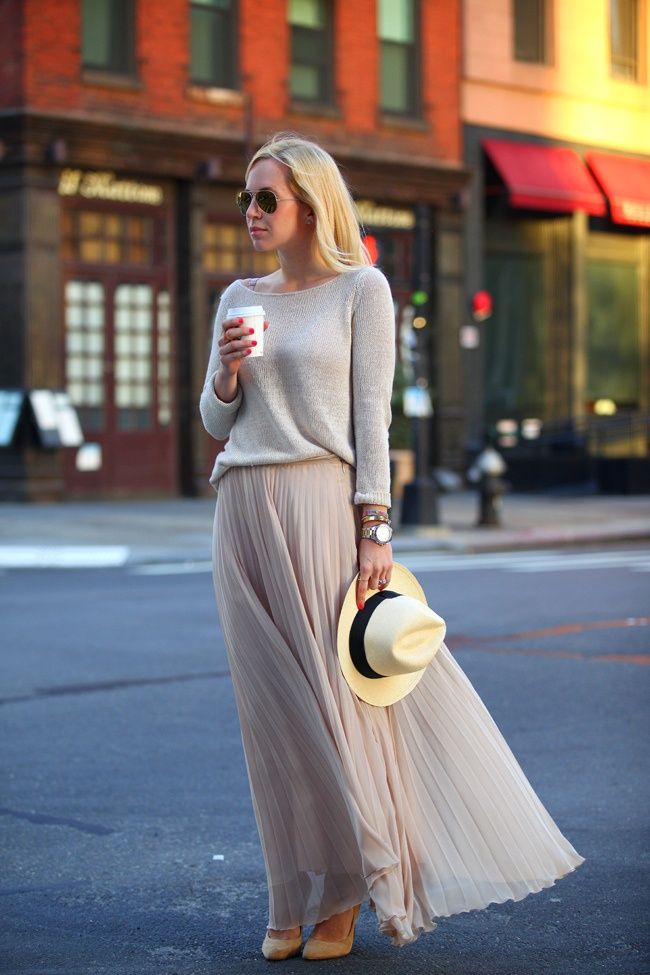 You don't always have to opt for a knee length or midi length skirt. A pleated maxi skirt in a neutral tone can work well as an alternative to a dress for an occasion that requires slightly more polish. Try adding interesting accessories such as a panama hat for more casual events.
Tell me—What do you think of the pleated skirt trend?
Photography: She Comes in Colours, Street Peeper, Just the Design, Pinterest, Clochet