As most of you know I'm a huge fan of stocking my wardrobe with key style staples. They just make getting dressed a whole lot easier. The classic white shirt is high on my list of things every woman should have in her closet. So when I find a shirt that's actually called The Perfect Silk Shirt it immediately has me excited. And indeed this Banded Together shirt does tick all the boxes. The cut is great, the split cuffs give it an interesting finishing touch and the necktie (which can be worn tied or loose) adds an element of versatility. What's not to love?
A white shirt will go with pretty much anything which is why it's universally praised as a fashion must-have. Whilst my pairing options were plenty, in this instance I went for a slight 60s vibe with a tweed mini in a subtle herringbone pattern. I liked that the skirt's texture provided a great contrast to the smooth silk finish of my blouse.
The addition of my Gucci pearl belt instantly gave my outfit an on trend element which really lifted it from being too conservative. I wanted to keep the rest of my accessories quite simple so I opted for a mini quilted Dior chain strap bag and classic cat eye sunglasses, both have a classic feel but maintain a modern sensibility.
Credits: Shirt, Banded Together; Skirt, Skin and Threads; Belt, Gucci; Sunglasses, Poms; Bag, Dior
Photography: Sophia Athas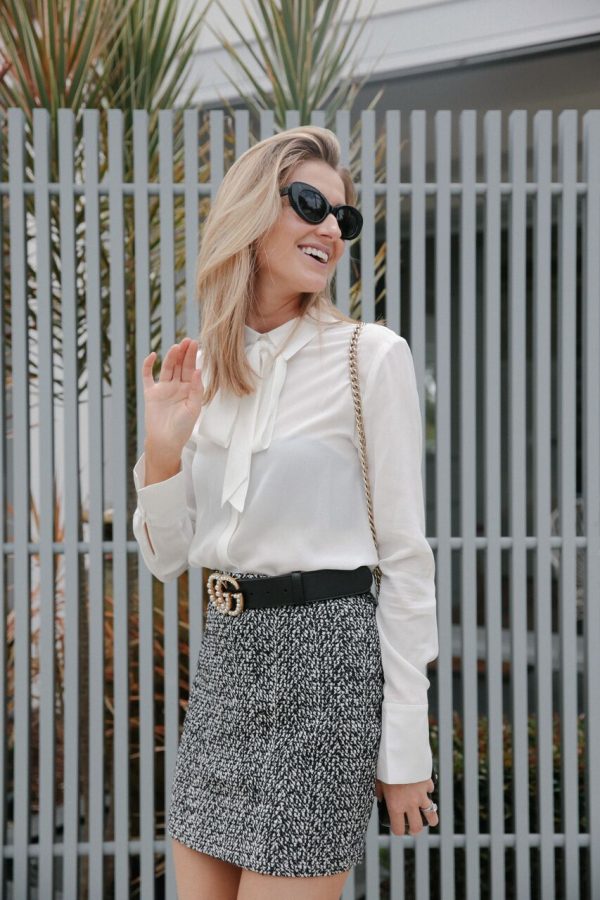 This post was produced in collaboration with Banded Together