It's been a busy few days and another week of transeasonal weather in Sydney. Don't you just love when it's hot one minute and cold the next? I've also had a few different things on this week so I've been able to utilise various aspects of my wardrobe, along with incorporating a few not-so-new-anymore wardrobe updates into the mix. It's always great to be able to rediscover old pieces and find ways to rejuvenate them into new looks. Here's what I wore this week.
I wore this to a launch and loved it so much it had to be revisited again. Matching sets are such a great go-to for events as they instantly look polished and you don't really have to do much at all! I added some nude Bottega heels to achieve a more streamlined silhouette with the white top and white pants, while a tan bag added a little hint of colour.
Credits: Top and pants, Ess the Label; Bag (similar here), Saben; Heels, BottegaVeneta
I'd say this is one of my fave weekday uniforms – jeans, a tee and a blazer are one of my failsafe outfit combinations. It's comfy plus I can get away with wearing it to work and also the school run. Black boots are a great way to ground an outfit and give it a bit of edge, while I don't think you can ever go wrong with a classic blazer like this Michael Lo Sordo number.
Credits: Blazer, Michael Lo Sordo; Jeans, Levis; Boots, Witchery; Bag, Prada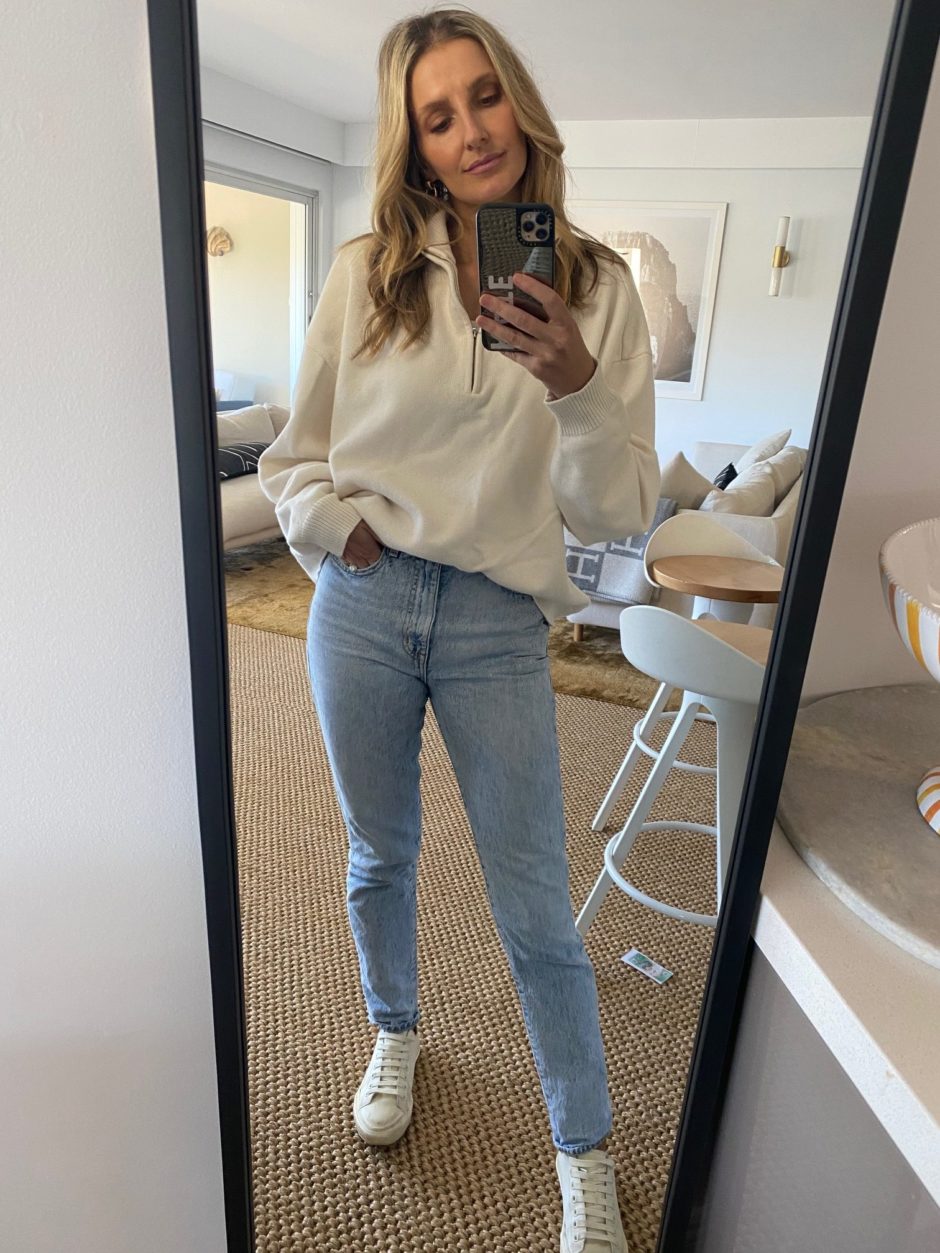 You can't get more comfortable than this look, and the beauty in it is that I think it still looks polished. This quarter zip jumper by Venroy and good ol' fashioned denim and white sneakers is my usual shortcut to an easy, unfussy look. There's also a freshness to wearing white that makes it perfect for spring.
Credits: Jumper, Venroy; Jeans, Levis; Sneakers, Burberry
As you can see, the girls and I love a spring dress. This mint green dress by Acler is such an on trend silhouette with the puff sleeves and the fitted bodice, but feels elevated with the embroidered trim. Also now that we've farewelled winter, I definitely think it's the perfect time to embrace some colour, particularly soft pastels such as this.
Credits: Dress, Acler